Travel Partner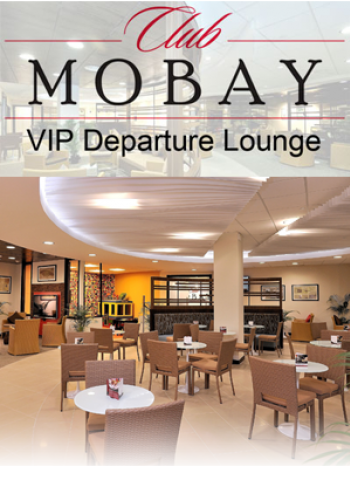 Club Mobay Lounge
Char Travel is pleased to offer VIP passes to the new Club MOBAY departure lounge in Jamaica's Montego Bay airport.
Start or finish off your trip in comfort and style.
Book Your VIP Passes at our discount here
Get VIP'd through the lines at customs, immigration and security.
Arrival Service:
What better way to begin your Jamaican travel experience than with a personalized expedited service throughout the airport? A hassle free process that fast tracks you through immigration, customs and security. A staff person will meet you at the jetway and escort you through the entire arrival procedure.
You will end up at the MoBay lounge to wait for your transfer in comfort, and enjoy:
Complimentary Red Strip, Rum punch and snacks.
Free WiFi services
Comfortable sofas and seating
Clean private bathroom facilities
Fast Track Access through the airport
Departure Service:
Then you can continue enjoying the best of Jamaican hospitality and heritage or just catch up on business matters, as you prepare to depart from either of our international airports. Enjoy a unique, first class lounge experience and premium Jamaican hospitality in a dynamic environment of exhibits and audio-visual presentations showcasing the best of Jamaica. Everything from Jamaica's own world renowned beer, Red Stripe, to the arts, music, food and specialty rooms that will reflect the rich cultural expressions of Jamaica. Our relationships with Jamaica's centres of cultural expression enable us to give guests the opportunity to continue immersing themselves in all things Jamaican, right up to the point of departure. Come and enjoy a tranquil atmosphere that provides:
Complimentary refreshments and snacks, featuring fresh fruit and pastries
Free WiFi, charging and a state of the art business centre offering secretarial services
Clean and private facilities
Complimentary Concierge Duty Free Shopping
Luxurious mini spa treatments and shower facilities
Fast Track Access through the airport
TV lounges and comfortable accomodations
You can take advantage of our discounted prices on any trip to Jamaica. On any group trip or while just traveling by yourself.
Pre-purchase your VIP passes
You can pre-purchase your VIP Departure Lounge passes from the Char Travel link.
VIP Arrival Service is now available...
The same excellent service Club Mobay provides at departure is now available on arrival. Get Fast-Tracked through the long lines at Immigration, Security and Customs.